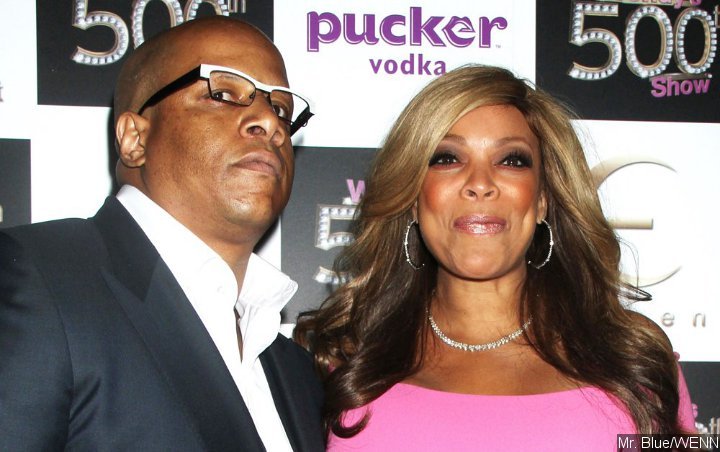 In related news, the 54-year-old TV personality reveals on 'The Wendy Williams Show' that she and Howard Stern have called a truce after the latter previously called her a 'jealous b***h.'
AceShowbiz –
Viewers of "The Wendy Williams Show" were pleasantly surprised when the host appeared to address her divorce from Kevin Hunter during the popular "Hot Topics" segment of her show on May 9. However, one particular person was not happy about it, and the said individual was reportedly Kevin.
"Kevin's furious, he claims that Wendy promised him that their divorce would not become a hot topic on her show," a source reveals to HollywoodLife. "No one has sympathy for him though, what did he expect, she's a public person and a very outspoken person."
The source goes on saying that "this is probably just the beginning, she's finally woken up to the truth and she's mad as hell." The insider adds, "Kevin is very worried about what Wendy will say next about him on her show, to the point where he wants to try and block her from speaking about him. She didn't actually use his name though so what can he really do? He made this bed and now he has to lie in it."
"There are a lot of women with no respect for a marriage. You know what I'm saying?" The 54-year-old TV personality said in the episode, seemingly referring to Sharina Hudson, a massage therapist who reportedly shares a child with Kevin after being together with him for some quite time behind her back. "A lot of women who know your man is married and will have the nerve to be right up under him and right up under your nose."
"For you lonely girls who can't keep your hands off other people's men, there's a hot place in hell for you," the talk show host went on saying with the audience cheering. "I feel a woman is only gonna do that if the man lets her. Most of the time if a woman's doing something like that she's got nothing to lose…if she's doing that to a married man with a family he's got everything to lose. So if you bite back, man…you lose."
In related news, Wendy talked about her relationship with Howard Stern who previously called her a "jealous b***h." She revealed on her show that they had called a truce, saying, "By the way, Howard, I read the article with you on the cover of The Hollywood Reporter, and I saw that you mentioned me and that you apologized."
"Howard, you know what, if you never apologized to me ever in your life, you would still be one of the most influential people in shaping my career — you and Oprah [Winfrey], that's it," she continued.
"And the idea that you apologized — he went on the air and ripped me a new one for no damn reason, because I knew I was right — then in this article in Hollywood Reporter, it was a thick article, he goes on to say that he loves me and that I might've seen something in him that maybe he didn't see," she went on saying.
She concluded, "And that he's kind of embarrassed for ripping me on the air, so he's pulled that from the archives. You'll never hear that on repeat. I love him! And my heart was so broken when he was fighting with me because I wasn't fighting with him."
Source link