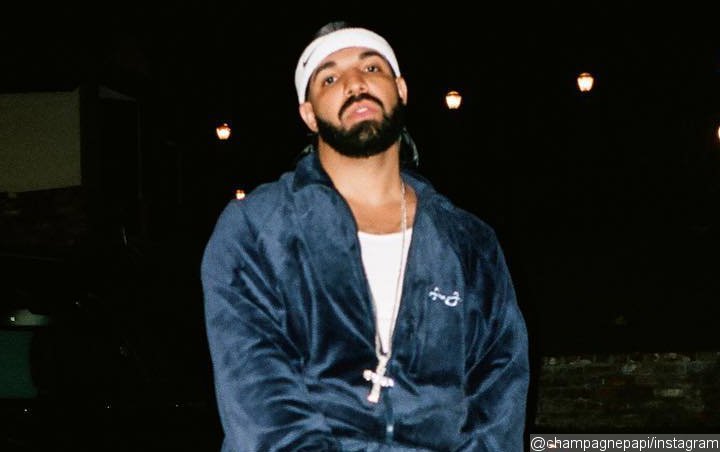 In the clip, a female fan can be seen waiting for the perfect chance to throw her bright her bra as the rapper walks closer to her section.
AceShowbiz –
It appears Drake has already gotten so used to fans throwing their bras on the stage that he doesn't mind it anymore. Thus, when a fan threw her bra during his recent "Assassination Vacation" show in Manchester, England, he didn't look shocked in the slightest bit and casually caught in mid-air while continuing his performance.
Footage of the funny moment made its way out on Tuesday, March 12. The female fan could be seen waiting for the perfect chance to throw her bright red bra as the "In My Feelings" rapper walked towards her section. When she thought he was near enough, she immediately threw the undergarment and Drake immediately caught it. But instead of put the bra down, Drake nonchalantly swung it around as he continued rapping.
"She shoots and she scores ikn she felt like she won the Lottery," one Instagram user commented of the footage as another user believed that Drake already knew the fan was going to throw the bra to him. "I love how he just caught it so perfect like he been ready," so the said user wrote. One other said, "I feel like she put a lot of time and patience into this. And I respect that s**t a lot sis. We need more women in the world like you."
It should be noted that this is hardly the first time Drake found flying bras during his concerts. Back in 2017, the Canadian superstar told the crowd when he found a bra onstage, "I'm a single man and I need this 34F." He then said to the fan whose bra was already in his hands, "I'll talk to you later then."
In 2018, Drake hilariously dubbed himself a "collector" of bras after getting multiple undergarments tossed at him when he wrapped up his "Aubrey & The Three Migos" tour.
Source link