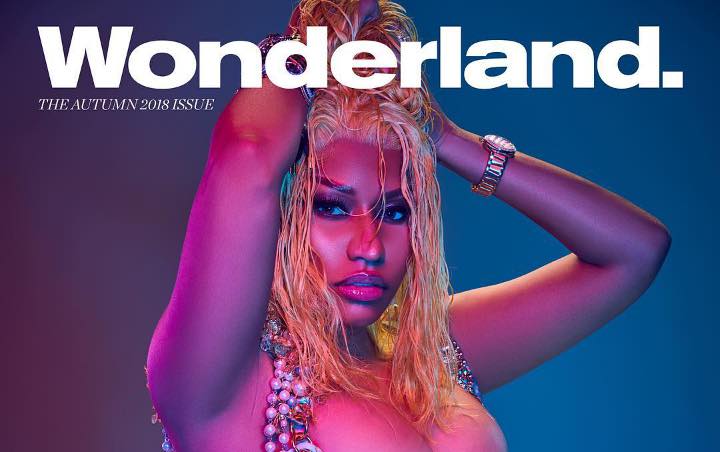 One of the dreamy-looking photos sees the 'Queen' star throwing a smoldering look as she sexily ruffles her wet hair.
AceShowbiz –
Nicki Minaj is sizzling hot on the cover of Wonderland for the magazine's Autumn 2018 issue. The curvy raptress is bursting at the seams as she flaunts major cleavage in a tight corset with gold and pearl embellishments.
Taken by photographer Dennis Leupold, the dreamy-looking snap sees the "Queen" star throwing a smoldering look as she sexily ruffles her wet hair. The Barbadian beauty appears to be loving how she looks in the photo as she reveals that she's "excited to announce my new @wonderland COVER!!!!!"
Another snap for the magz also sees Nicki effortlessly being a "fkng Barbie." The Young Money femcee covers one of her breasts as if she's trying to avoid a nip slip. Meanwhile, the "Anaconda" rapper can be seen trading her corset for a red latex dominatrix-looking ensemble in another photo. "Cuz I be da baddie B, Barbie Tingz, bangin body B…," Nicki captions the snap.
The rest of the photos feature her famous derriere being put on full display. She is also seen making faces at herself in the mirror.
In the accompanying interview, it's hinted that Nicki seemingly brought one of her new men during the filming as she apparently has "a new romance on the scene." The star also talks about inevitable competition in hip-hop world. "Competition? Why yes, I would love some," she says, adding that "they need rappers like me."
This NSFW photos arrive after Nicki's infamous altercation with Cardi B at Harper's Bazaar ICONS party allegedly after the former talked bad about Cardi and Offset's daughter Kulture. Nicki, however, denied the rumors, saying on her Apple Music Queen Radio show on Beats 1, "It's so sad for someone to pin that on me. I would never talk about anyone's child or parenting, I don't give a s**t… You know I didn't say or never did talk about anyone's child… I am not a clown, that's clown s**t."
It was also reported that wasn't entirely over the fight as she's grateful for the fight because it brings many good things for her music career. She allegedly believed the impressive views count for her "Barbie Dreams" music video was partially thanks to their fight. The video had garnered over 5 million views less than one day after its release. Furthermore, she gets more gig and show appearance offers after the fall out.
Source link