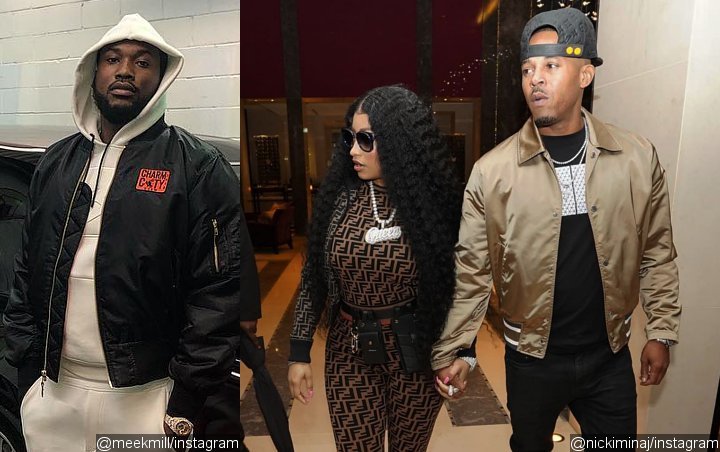 A source reveals that Meek is going to wait until the two break up before making a move on the 'Anaconda' hitmaker.
AceShowbiz –
Nicki Minaj and Kenneth Petty have been together for some time and it's apparently longer than Meek Mill thought it would be. A new source reveals that Meek, who used to date the Trinidadian beauty, "is shocked that Nicki is still with Kenneth."
"He was surprised when they first hooked up and he is more shocked now that they have stayed together as long as they have been," the source goes on explaining to HollywoodLife.com. The source adds that despite confirming their split in January 2017, Meek can't keep Nicki off his mind.
"Meek thinks about Nicki all the time, even misses her sometimes," the insider claims. However, the source notes that Meek "will never reach out to her as long as Kenneth stands in the way."
The rapper allegedly thinks that Nicki deserves someone better than Kenneth, who is a sexual assault convict. "Meek is shocked that Nicki is still with Kenneth because he thinks she deserves better than guys from her neighborhood like Kenneth. Meek feels Nicki is going through a phase with this guy from her past," explains the source.
As Meek isn't planning to get himself into Nicki's relationship with Kenneth, he is allegedly "waiting for her to come to her senses and snap out of it. Meek feels Nicki should be with someone more successful, powerful and on her same level, like him."
"Meek does not expect Nicki to stay with Kenneth and once he is out of the way, when the timing is right, Meek would love to hit her up again," the source reveals. "Despite their rocky past, Meek doesn't feel like things are over between him and Nicki. He is watching from a distance, waiting for her to wake up and break up with this guy that Meek feels will never earn the right to be Nicki's husband."
Just a few weeks ago, Meek appeared to diss Nicki and her new man on a new song. The preview finds Meek taking shot at an ex-girlfriend whom he called his Beyonce Knowles. "This s**t is beyond me/ You was supposed to be my Beyonce now you this n***a's fiance? What?" Meek could be heard rapping. "F**k you mean you feel a connection?/ He listen to you, what?/ This n***a wear Balenciaga with boot cut jeans/ What the f**k you losing your mind?/ Ayo, call my f***ing phone back yo."
However, he shut down the rumors, tweeting, "Y'all gotta hear the whole thing first …… just chill." In another tweet, he added, "Stop the bap I'm like on my 6 girl in the last 2 years let me live."
Source link