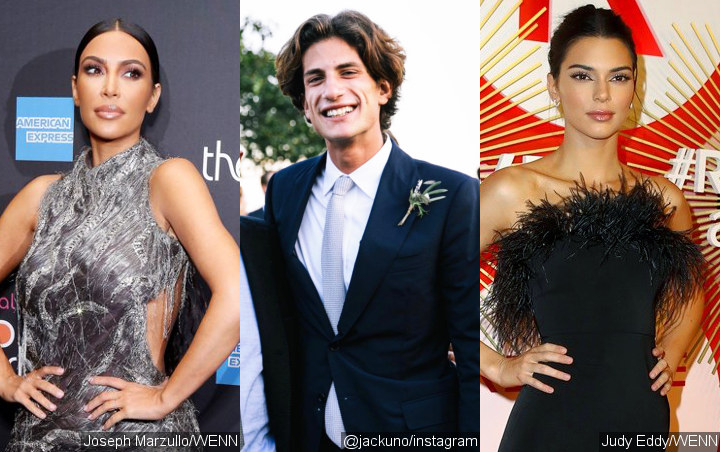 The KKW Beauty founder is reportedly excited at the prospect of merging the Kardashian-Jenner clan with the Kennedy family after learning of Jack Schlossberg admiration for the former Victoria's Secret model.
AceShowbiz –
John F. Kennedy's grandson John Bouvier Kennedy "Jack" Schlossberg reportedly has a crush on Kendall Jenner and her sister Kim Kardashian is particularly excited about it for a reason. The 38-year-old reality TV star is allegedly keen on the possibility of her half-sister dating the 26-year-old hunk because she vies the merging of the two families.
Jack's secret admiration for the 23-year-old model was revealed during Kim's cover story interview for the May issue of Vogue magazine. The article's author Jonathan Van Meter wrote, "At one point, Kim is holding court in a sitting area just outside her bedroom. Someone from the crew mentions that the very handsome young John Bouvier Kennedy Schlossberg, son of Caroline, reportedly has a crush on her half-sister Kendall, and Kim's eyes twinkle at the prospect of colluding over some dynastic matchmaking."
Kim has been idolizing JFK's late wife Jacqueline Kennedy Onassis, so to have her sister date Jackie-O's grandson would be quite a catch for the Kardashian-Jenner clan. That, however, is not going to happen soon since Kendall is currently still in a relationship with her on-/off-boyfriend and NBA star Ben Simmons.
During the interview, Kim revealed that she was the anonymous bidder who bought Jackie's Cartier tank watch for $395,000 at an auction in 2017. She wore it to the meeting with President Donald Trump in the Oval Office in May 2018 to discuss prison reform. "I bought Jackie Kennedy Onassis' watch at auction. I wore it when I went to the White House. It gave me some power: Let's get in there and get this done," she shared.
Jack is the youngest child and only son of Caroline Kennedy, the former U.S. Ambassador to Japan, and the only grandson of John F. Kennedy. He graduated from Yale University in 2015 and entered Harvard Law School in the fall of 2017.
While Caroline served as the U.S. Ambassador to Japan during the Obama administration, Jack lived overseas in Japan with her. In October 2015, he started working at Rakuten, Inc, a Japanese internet and e-commerce company, in Tokyo. In 2016, Jack worked for the U.S. Department of State and Suntory Holdings Limited, a Japanese brewing, distilling and beverage company.
Jack is a political writer who has written for the Washington Post, Time and Politico. He is also very into volunteering and is a volunteer EMT in NYC.
Source link