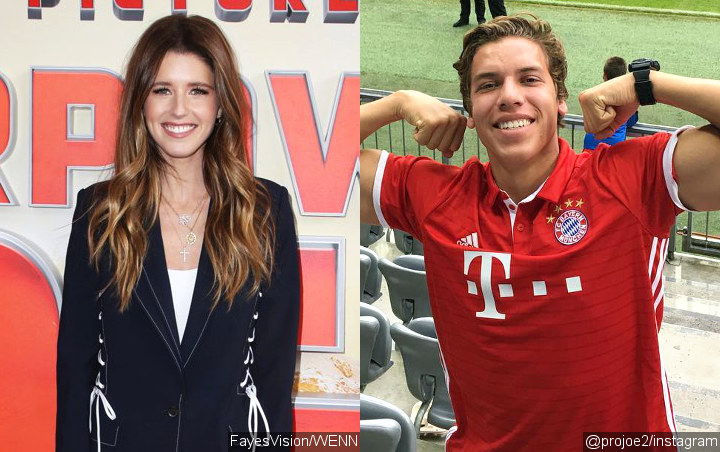 The daughter of Arnold Schwarzenegger and Maria Shriver responds to critics who judge her for not including her half-brother Joseph Baena in her sibling tribute.
AceShowbiz –
Katherine Schwarzenegger isn't letting Internet trolls drag her to their level of impoliteness. Instead of responding to critics with a hateful comment, the 29-year-old author sends "love" to those who slammed her for snubbing her half-brother Joseph Baena.
On National Siblings Day, Wednesday, April 10, the fiancee of Chris Pratt posted on Instagram a tribute to her siblings. She shared pictures showing her with sister Christina, 27, and brothers Patrick, 25 and Christopher, 21. She wrote in the caption, "I LOVE THEM SO MUCH."
Many took to the comment section to point out that Katherine did not include Arnold Schwarzenegger's love child Joseph, whom he kept secret for many years after an affair with the family's former housekeeper Mildred Patricia Baena.
"And your other brother?" one curiously asked. Another wrote, "It is unfortunate that you post a pic that that doesn't include all your siblings. Definitely will be unfollowing you now. I thought you were loving and forgiving."
But it was one particular user's comment that got Katherine's attention the most. The said user wrote, "All hypocrites. They preach all this love, happiness, forgiveness, acceptance crap but yet they never ever acknowledge their youngest brother! It's not his fault, he didn't ask to be born but he's here. And if you notice, Joseph always liked all of their photos and follows them. But they always like most of Arnold's photos except the ones with Joe in them."
Showing that she's on a different level of wisdom with the said troll, Katherine replied to the comment, "@rosa_hdz_fashionista saw in your profile it says 'god always'. Just wanted to remind you of Gods presence in all of our lives and even in yours as you come spreading hurtful words and judgement. He does not judge you or any of us. I am praying for you and sending you love not because what you said is okay, but because i believe you need love to heal whatever is causing you to post comments like this. god bless you!"
Katherine's mother Maria Shriver, meanwhile, chose to ignore the hateful remarks and reacted to her daughter's declaration of love to her siblings by writing, "Love these four amazing people all so kind fun smart loving caring of each other and everyone else xoxo."
Some others defended Katherine against the haters, with one writing, "Everyone who comments as though they know your family dynamics better have perfect families. No one knows what goes on in a family & especially when something unexpected happens. Your family is beautiful & you seem to all be close."
Source link