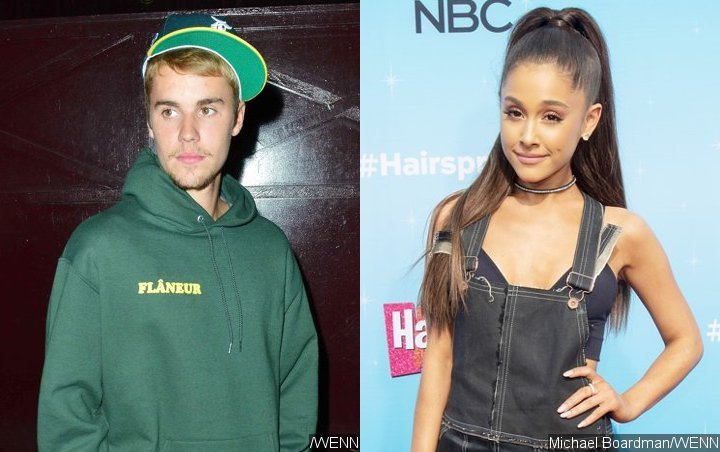 Performing his hit 'Sorry' near the end of the songstress' headlining set at the annual music festival, the Canadian singer also announces that his new album 'will be out soon.'
AceShowbiz –
Ariana Grande surely wanted her Coachella headlining performance one to remember. After bringing out NSYNC to the stage during the first weekend, the Grammy-winning songstress surprised fans by inviting Justin Bieber to the stage in the following week. This marks the Canadian star's return to the stage in two years.
Justin only came to the stage near the end of the set, after Ariana finished delivering rendition of hits like "God Is a Woman", "Be Alright", "Side to Side" and "7 Rings". Between her performances of "Break Free" and "No Tears Left to Cry", she took a pause to bring out Justin. "I wasn't going to bring out any guests tonight," she admitted. "But my friend Justin Bieber came all the way out."
Sporting an olive green jacket over a white T-shirt, Justin performed his hit "Sorry" with the "Thank U, Next" hitmaker, who shared the same manager with him. He said, "I wore this fly outfit not knowing that I was going to be on stage. I came out here and had no idea I was going to be on this stage tonight. Absolutely no idea. I wore this swag outfit not knowing I was going to be onstage."
He continued, "So, anyway this is my first time being onstage in like two years. So I had to get my groove back. I had to get my swag back, you know what I'm saying. Thank you so much, Coachella. Thank you so much, Ariana Grande! Thank you so much! Thank you so much!" Before the "What Do You Mean?" singer went backstage, he had one more announcement for fans as saying, "And by the way, the album will be out soon!"
It was surely good news for fans. After all, Justin recently said in an Instagram post that he wanted to take a hiatus from making music to focus on his personal life and his mental health.
Source link