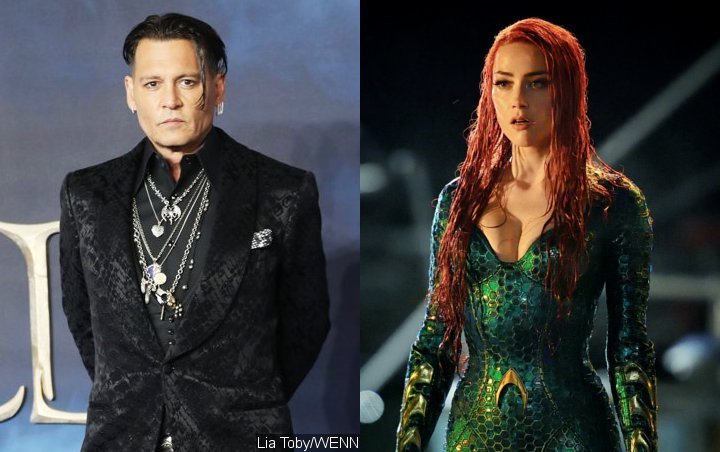 Depp's current attorney accuses his former lawyers of fabricating the story about him attempting to blacklist his former wife, Heard, at Warner Bros. Studios.
AceShowbiz –
Johnny Depp denies report that he tried to sabotage Amber Heard's acting gigs. In an article published by The Hollywood Reporter about his war with his former lawyers, sources claim that the "Pirates of the Caribbean" actor tried to get his ex-wife removed from "Aquaman".
According to the sources, the 55-year-old rocker met with former Warner Bros. chairman Kevin Tsujihara and "personally lobbied" him to cut Heard from "Aquaman" and block her from getting other projects at the studio. The 32-year-old actress eventually stars in the 2018 blockbuster movie, but Tsujihara is asked to testify about whether or not he played a role in "blacklisting" Heard at WB.
Now Depp's current attorney Adam Waldman has hit back at his former lawyers for allegedly spreading the "false" claim. To The Blast, Waldman says, "The Hollywood Reporter story alleging Johnny Depp attempted to 'blacklist' Amber Heard from Aquaman is a last-ditch effort by defendants to smear Mr. Depp using an evidence-free media and clickbait. It is merely the latest false assertion, anonymously injected into the media by defendants being sued by Johnny Depp for tens of millions of dollars, purposed to save their skins and delay a looming day of reckoning in a court of law."
Waldman goes on acknowledging the rumor of Warner Bros. considering to cut Depp from the "Fantastic Beasts" movie franchise over his ongoing legal battle with his ex-wife Heard. "Grotesquely, the truth is the opposite of their latest 'blacklist allegation'," Waldman claims, "according to the New York Post, 'senior executives at Warner Bros.,' who are the company's #Metoo leadership and personally close with Amber Heard, claimed a week ago that Warner Bros. would throw Johnny Depp off the 'Fantastic Beasts' movie franchise in which he stars because of Ms. Heard's abuse hoax, notwithstanding that it has been thoroughly disproven by police and other sworn testimony, photographs, audio tape and 87 surveillance videos. Ms. Heard has herself previously been arrested and incarcerated for domestic violence."
Depp is suing his former legal team for over $60 million, claiming they breached their fiduciary duty to him. The actor claims his former lawyers wrongfully advised him to settle with Heard rather than face a protracted legal battle. The lawsuit is separate from a $50 million defamation suit Depp filed against Heard in March.
Waldman explains, "Hidden under the blacklist lie is the falsehood that Mr. Depp is suing Boom Hergott for anything relating to Amber Heard. Mr. Depp is suing Ms. Heard for her actions, the Sun tabloid for theirs, and Bloom Hergott for theirs. Holding hands won't help them. These matters will be determined by the Court, not the Hollywood Reporter, nor by People Magazine, whose employee conspired with Ms. Heard to put her hoax on its cover. Mr. Depp will have his days in courts; these lies will never survive the disinfecting sunlight of evidence."
Source link