Jen takes to social media to slam her on-again, off-again boyfriend for allegedly putting work before his family after promising to be a better boyfriend and father.
AceShowbiz –
It looks like Ronnie Ortiz-Magro and Jen Harley are not going to have the most romantic Valentine's Day despite their efforts to make their relationship work. On Wednesday morning, February 6, Jen took to Instagram to blast her on-again, off-again boyfriend for canceling their Valentine's Day plans to appear on a dating show.
"I'm sorry but if you go away for 6 weeks to become a better boyfriend, father, person, etc to work on your family but you choose to cancel all of our plans on Valentine's Day so you can appear on a dating show bc you need the money that bad over your family…you're a joke," she wrote in a now deleted Instagram Stories post. She added, "You continue to put us back in the same position by doing the same things that put us there in the first place."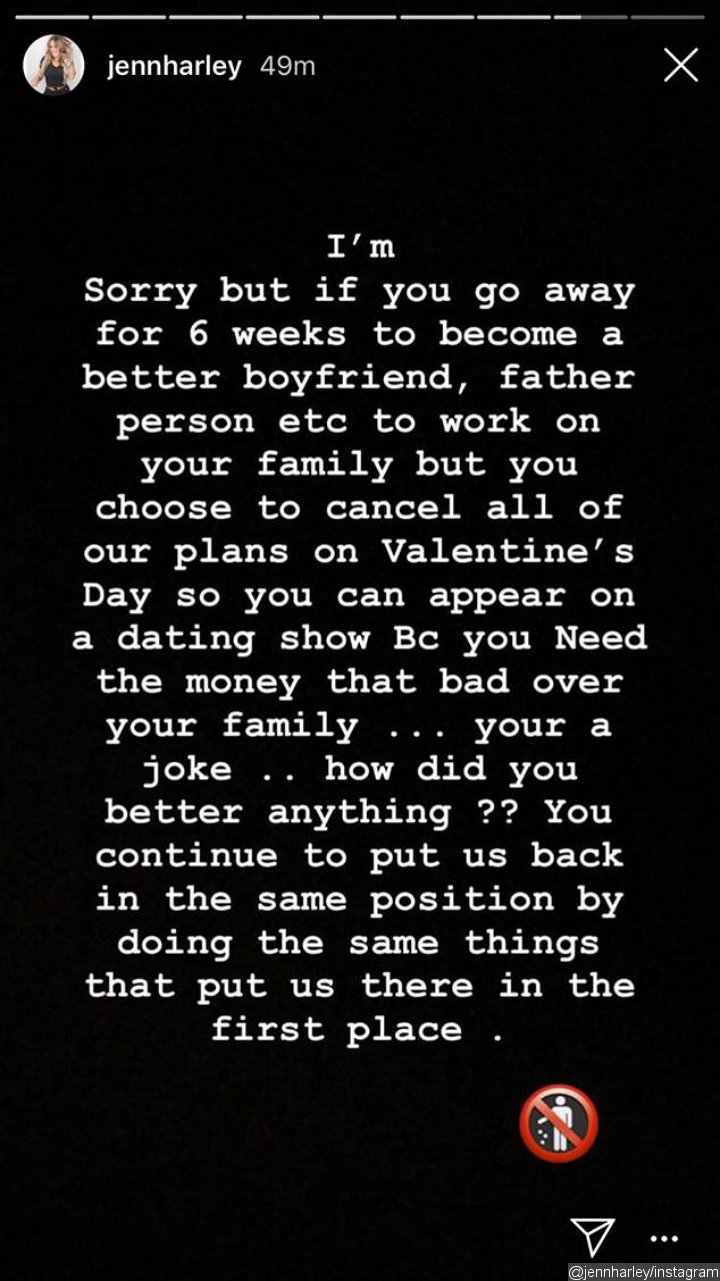 Jen Harley puts Ronnie Ortiz-Magro on a blast on Instagram for canceling their Valentine's Day plans.
But Jen is making sure she won't be alone on this Valentine's Day. "If any of my friends don't have a date I have an AMAZING day planned you can join me," she shared in another post. "I was alone last vday too. So I'm really excited to do something special this year."
Ronnie has not responded to Jen's latest social media rant.
The two have been having a rollercoaster relationship. The couple, who shares 10-month-old daughter Ariana Sky, recently called it quits after a New Year's Eve altercation. "Ronnie and Jen got into a fight on New Year's Eve. They broke up before New Year's Eve, got back together right before then and got in a big fight on Monday night," a source told Us Weekly in early January. "They're currently broken up. But it's the same story every time: They are together, they fight, they break up and then get back together."
Jen reportedly got violent during the altercation at the Hustler Club in Las Vegas, throwing a glass ashtray at Ronnie which left him with a cut on his top lip. He then filed a police report against Jen, alleging her of battery.
Source link