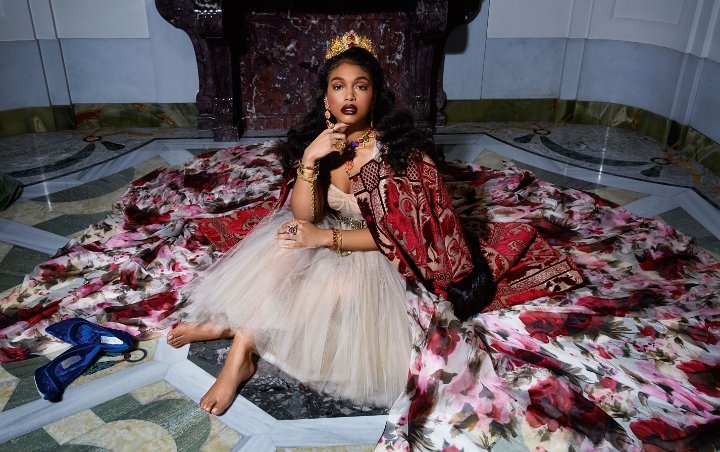 While Lori Harvey is looking gorgeous in a Dolce and Gabbana ensemble, some of the comments on her Instagram post are about her 'fat' feet.
AceShowbiz –
Steve Harvey's viral stepdaughter Lori Harvey has fallen victim to an internet trolling once again. The Instagram latest "It" girl recently took to her account to gush over her new collaboration with Dolce & Gabbana. However, instead of her gorgeous look, internet users were focused on another thing that was featured on the picture she shared.
In the pic, the 22-year-old was clad in a white gown with a tile skirt for the new issue of Harpers Bazaar magazine. While sitting on the floor, she completed her style with an extravagant red coat. The Instagram star oozed glamor with a bunch of jewelry and a gold crown.
"Been waiting for this to come out for so long! such an amazing experience and honor to be shot by the one and only Domenico Dolce. Love always," so Lori captioned the snap.
However, some of the comments on the post were about her "fat" feet that peaked through her sheer dress. "Monkey feet but they nice," a user wrote. Fortunately, Lori didn't only get hateful comments.
A slew of comments saw people supporting her and gushing over her beauty. Some wrote, "Gorgeous," "Pretty" and "Beautiful," while some others called her "my queen" and "my baby."
Lori made headlines last month after a video of her allegedly flirting with Jay-Z at the Roc Nation pre-Grammy's party surfaced online. Unsurprisingly, Beyhives, the fans of Jay-Z's wife Beyonce Knowles, were enraged and warned the beauty.
"Now Lori you don't want these problems.. you better turn that head right side up #loriharvey #jayz #beyonce," a fan wrote on Twitter. "Lori Harvey is out there dribbling our childhood crushes and I'm here for it," another fan warned. Another fan attacked her on Instagram, writing, "Let this be the first and last time we hear of you and a Carter family member in the same vicinity."
People assumed that the "4:44" rapper made sure that she knew he wasn't interested in her. It appeared that he told her in the video, "I'm married." Meanwhile, according to lip readers, Lori responded, "I know but like…"
Despite the backlash, Lori scored another invitation to the power couple's private party. She was said to be among the attendees at Beyonce and Jay-Z's Oscars after-party on Sunday, February 24. Also present at the exclusive bash were Rihanna, Adele and Leonardo DiCaprio.
Source link