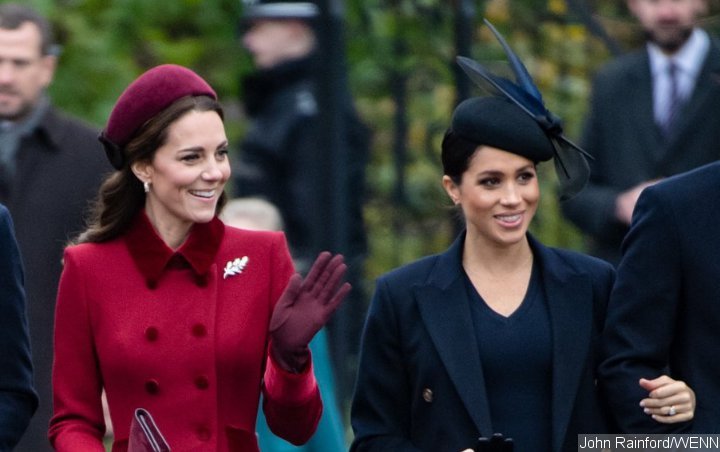 In related news, a source reveals why the Duchess of Sussex will be opting out for a photoshoot with her and Prince Harry's newborn child immediately after giving birth.
AceShowbiz –
Meghan Markle is currently pregnant with her and Prince Harry's first child and is expected to give birth anytime soon. Since the Duchess of Sussex has zero experience of having a baby, let alone a royal baby, the only one person she can rely on for advise is sister-in-law Kate Middleton.
Speaking on Quest Red's latest royal documentary "Meghan and Harry: A Royal Baby Story", Royal author Duncan Larcombe notes, "One of the things I think we have to remember is that Kate, her sister-in-law, is pretty much the only person on the planet that can really advise her and help her."
However, that apparently won't make their bond grow deeper. Celebrity journalist Ashley Pearson says that the pair will never be good friends, though she alludes that the alleged war between the Duchesses is doubtful.
"I don't believe that Kate and Meghan are at war in the way some of the press has painted it. But I don't think that Meghan and Kate will ever be super good friends," she says. "I can see Meghan asking Kate for advice about what to wear for the royal christening photo."
"But I think in terms of the rest of it she will do exactly what she feels is best," adds Pearson, who also notes that the former "Suits" actress is "so different" from the Duchess of Cambridge.
In related news, Meghan reportedly will not do photoshoot with her newborn child immediately after giving birth because she's nervous. "Everyone of course has an opinion about whether we should be the ones to see the baby first, but at the end of the day, what Meghan does with her baby and her body straight after giving birth is very much her personal decision," royal commentator Omid Scobie says.
"What we've heard from sources is she's quite nervous, it's her first baby, the nerves are really quite high at the moment and so for her to be able to actually cut out what makes it so stressful is probably quite a relief for her and Harry," he goes on explaining.
This arrives after officials at Kensington Palace announced on Thursday that the couple wanted to avoid the media circus surrounding the arrival of Prince William's three children by not publicly announcing the birth until they are ready.
"The Duke and Duchess of Sussex are very grateful for the goodwill they have received from people throughout the United Kingdom and around the world as they prepare to welcome their baby," they commented. "Their Royal Highnesses have taken a personal decision to keep the plans around the arrival of their baby private."
Meghan is expected to give birth later this month or in May.
Source link